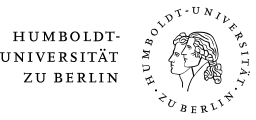 Enhancing Digital Teaching
Copyright: Anna Sitnikova
Dear HU teaching staff,

If you are planning to teach online classes due to the Coronavirus Pandemic and if you have any questions regarding setting up your class online, you can contact us via e-mail: digitale-lehre@hu-berlin.de

If you leave us your phone number, we will get back to you as soon as possible. Unfortunately, we cannot answer our office phones right now, since we are all working in home office at the moment.
We are currently working on translating our website to English. 
Digital teaching and learning has become a regular part of studying at University level in present times. HU wants to use the potential that digital learning and teaching tools have to offer so that degree programmes will become even more individually fitted and flexible.
In order to support the usage of digital media and tools in teaching, HU's Computer and Media Service (CMS) provides an extensive infrastructure that can be used e.g. to share documents and work sheets between teaching staff and students. Besides, individual departements work on developing innovative learning tools: apps, virtual learning environments and online classes, for example.
On this website we want to inform you about how digital tools are implemented into teaching and learning at HU. We introduce some of our projects and provide information on how to get funding and how you can network at HU regarding these topics. We aim at making digital teaching and learning projects visible and to continually improve digital teaching at HU.
Overview: Digital Tools for Teaching
Digital teaching and
learning at HU
Photo Copyright
Category "Overview: Digital Tools for Teaching": Carolin Jürs
Category "Digital teaching and learning at HU": Heike Zappe
Category "Further Information": Heike Zappe