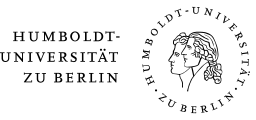 International Programmes
Humboldt-Universität zu Berlin already holds a high number of international programmes. These courses are offered together with renowned foreign universities and often lead to a joint certificate ('joint degree' or 'double degree'). Frequently some part of the international programme is studied at the partner university and the teaching language is usually English.
Most international programmes at Humboldt-Universität zu Berlin are master programmes. In the course of the project (2012-16) alone, eleven international master programmes were started. 
Furthermore three "Bachelor Plus" programmes are arranged in cooperation with partner universities (in hispanistics, scandinavian and Africa- and Asia studies).
Additionally Humboldt-Universität zu Berlin cooperates in the field of binational PhDs.
The tasks of the sub-project are to settle comprehensive questions and concerns of international courses, to foster the development of existing cooperations, and to help and to support the implementation. If you have ideas for new partnerships with foreign universities or new co-operations with partner institutions, do not hesitate to contact us.