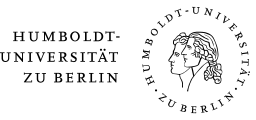 Internationalising Higher Education
As well as supporting the international study programmes, the sub-project also seeks to promote the internationalisation of existing study programmes at Humboldt-Universität. This involves a number of different aspects, such as building obligatory time slots into degree programmes for studying abroad or working on internationalisation@home by increasing the number of courses held in English or other foreign languages, or by strengthening the involvement of international students and lecturers. Our aim is to look at experiences and practices in all disciplines, in order to be able to offer recommendations for 'good practices' on to other programmes of study.
Berlin Perspectives – another sub-project of the bologna.lab – offers a range of (mainly Anglophone) courses aimed primarily at international students.
The Q-Kolleg initiative is a project of the bologna.lab, which tests teaching formats for joint courses with international partner universities.
Over 500 classes in English were offered in Humboldt-Universität's online course catalogue AGNES in Winter Semester 2015/16 (approx. 10% of all courses on offer). Our brief overview and evaluation can be found here.
In our 2012/13 project on internationalising teacher training courses (Lehramt) we focused on the mobility of students of teacher training courses.