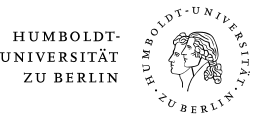 Additional Courses
Focusing on students with work or family commitments and other burdens we offer various additional courses.
The full course list can be found in AGNES.
Data Analysis Using STATA – Learning and Application
This course is offered as an interdisciplinary special subject module ("üWP" ­ überfachlicher Wahlpflichtbereich) at the Career Center (see AGNES link).
Lecturers: Matthias Klumpe, Anja Hlawatsch, Katja Baum (Statistical Office Berlin-Brandenburg, presentation "Microdata, Analyses, Research Data Center")
Credit points: 5
Details:
Monday, 19.10. 2015 - 14.12.2015
Time: 2-8 pm (s.t.)
Place: Grimm Zentrum, Geschwister-Scholl-Str. 1 (ZUB), room 1.701
Content:
The analysis of large amounts of data is becoming increasingly important. Classic spreadsheet programmes such as Microsoft Excel are more and more often at the limits of their capacity. With the statistical software STATA, on the other hand, it is simple to process and analyse large amounts of data.
The aim of the course is to provide students with a basic understanding of the statistical software STATA, enabling them to use it themselves in future for preparing their assignments and final theses or analysing large volumes of data.
In this course, the students learn to work with STATA using anonymised microdata from official statistics. The course is structured in such a way that the practical work is always preceded by a theoretical introduction. The practical implementation of the methodological and theoretical aspects is carried out with the CAMPUS Files of the Research Data Centers of the Federal Statistical Office.
Data management as well as and descriptive analysis (frequency tables, graphs), the course will provide an introduction to correlation, regression and panel analysis and their application using STATA. The course will also supply a brief introduction to using the menu interface, but the focus will be on programming do-files.
Students will be encouraged to interpret their generated results. Individual interpretation includes that students improve their learning and develop self-confidence in implementing the methods acquired in the course.
This course is open to students from all disciplines and is aimed in particular at students with work or family commitments. Basic knowledge in the area of statistics is expected, but no prior knowledge of the statistical software STATA is needed. However, basic computer literacy and word-processing skills are required.
To receive proof of attendance, students are required to attend classes regularly and participate actively, to develop an independent research question and give a brief presentation. In addition, to receive credit points, students need to conduct an individual analysis in the form of a written assignment which will be presented in class, too.
In order to participate in the course please use the application form on our website. Due to financial support by project funds, students who can claim a case of hardship in accordance with §90 (1) ZSP-HU or give evidence of reasons for a claim to part-time study in accordance with §63 (3) ZSP-HU, will be given precedence in the selection process. Please provide the relevant information with your application.
Please note that this course will not be acknowledged for Law students working towards the First Legal Examination.
Any ideas?
Suggestions for further courses suitable for part-time students are welcome.
Please feel free to send an email to: Hahm@hu-berlin.de.