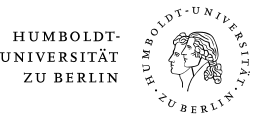 Frequently Asked Questions
Part-time students are students who do not devote the majority of their time to their studies. They often have a job or family commitments alongside their studies, are active in high-performance sports, or can only complete a reduced study load each semester because of illness or disability. They collect fewer credit points per semester, and correspondingly take longer to complete their studies.
In principle, all courses at Humboldt-Universität can be studied part-time, but you should note the following exceptions:
There are courses whose regulations explicitly preclude part-time study. This includes some masters degrees (see Masters Degrees Regulations). Part-time enrolment is possible in all HU courses leading to a first degree (Bachelor, Diploma, State Examination).
Part-time study is not possible if you are studying for two degrees simultaneously (Doppelstudium).
In the case of combined teacher training courses at other universities, you must enquire at the university in question whether part-time study is possible.
Further information: Part-Time Study Information Leaflet
For part-time students, every year of part-time study (= 2 university semesters) is counted as 1 semester of study. In this way, for example, a part-time student might study a regular full-time degree (standard period of study = 4 semesters) in 8 university semesters and would count as having graduated in 4 semesters of study.
Yes, to apply for part-time study, you must provide evidence of at least one of the reasons listed below: The General Study and Examination Regulations of Humboldt-Universität (ZSP-HU) stipulates in § 63 that part-time study at Humboldt-Universität is possible if any of the following reasons apply:
the student is employed,
the student is a parent and has education commitments for a child/children up to the age of 10,
the student has to take care of a close relative in need of nursing care, as defined in the Family Care Leave Act (Pflegezeitgesetz),
a disability or chronic illness of the student is necessitating part-time study,
pregnancy of the student,
the student is bearing a mandate issued by an organ of the university, the student body, or the student union Berlin,
due to other serious reasons.
How? Your application for part-time study must be made in written form and you must provide appropriate evidence for the reasons of your claim. You can study part-time as long as the reasons apply. If the reasons of your claim are no longer valid, the university must be informed immediately.
Where? The application for part-time study can be submitted in person or by mail to Referat Studierendenservice, Unter den Linden 6, 10099 Berlin (see Student Service Center [SSC] Opening Hours).
When? The application for part-time study can be submitted up to six weeks after the beginning of the current semester (in exceptional cases later, if the reasons for part-time study do arise at a time after this deadline). • The current application deadline for part-time study can be found on the HU website: Dates and Deadlines.
Generally speaking, yes. It is, however, not possible to answer this question generally for each individual student. We recommend that you obtain the relevant information on your individual case before submitting your application for part-time study. The following list provides some of the aspects you might need to consider:
BaFöG / student loans
Health insurance
Pension insurance
Child allowance
Tax affairs
Eligibility for residence in student accommodation
Residence permit…
The Part-Time Study project aims at improving the conditions for part-time study at Humboldt-Universität. We currently offer the following:
Additional classes for students with additional care- or work-commitments
Additional demand-based tutorial support ("Begleitendes Lernen") in the School of Business and Economics of Humboldt-Universität
Individual information service on part-time study
Support of initiatives for the creation of digital learning formats
You have several contact partners at the HU who will be happy to assist you and answer your questions on part-time study:
For questions on applying for part-time study contact the staff at the Student Service Center (SSC) (Contact and Opening Hours)
For questions on how to organise your studies, contact the subject-specific study guidance or student study guidance at your faculty (Overview) – also see the FAQ "further advice"
For practical questions and any other questions you may have concerning part-time study contact the staff of the Part-Time Study project (see Project Team)
If you need assistance for planning your studies or if you have any questions or problems concerning your studies, family, job, illness etc. you can contact any of the following advice and contact services offered by Humboldt-Universität:
General advice services at Humboldt-Universität:

For general questions on studying at Humboldt-Universität: General study guidance and information

For personal problems, difficulties or crises: Psychological counselling

For questions on professional orientation or starting your career: Career Centre

For worries and questions concerning day-to-day student life: Student social counselling (run by students for students)

On subject-specific questions and questions on organising your studies, advice services are available for you in every faculty (attributed to the study subject):

You can find these advice services on the websites of the individual HU faculties.

For family-related questions: for mothers- and fathers-to-be and students with children or caring for a relative, the Family Support Center assists you with a wide range of advice.
For questions on studying with a chronic illness/disability please contact the Advice for students with a chronic illness or disability and the Enabling Advice provided by the HU student advice service.
The departmental student governments will also be happy to answer your questions. If you have questions for students of your subject, feel free to contact your student government at any time. For contact details see: list of all departmental student governments.
The supplementary tutorials offered under the label of "Begleitendes Lernen" (supported learning) are flexible, demand-based learning support classes provided by student tutors. The tutorials have been on offer to bachelor students of the HU School of Business and Economics since 2013. Supported learning is offered specifically to students whose studies are restricted by their professional or family commitments.
Our tutors are happy to help you with your questions and queries on the subjects on offer. Up-to-date information on "Begleitendes Lernen" can be found here.
Enrolment? The enrolement key to the Moodle course is provided in the first session you are attending.
Attention:
Please email your questions to our tutors 2 days in advance of the date scheduled for "Begleitendes Lernen". That way you can expect a focused response.
Please enrol on the Moodle course "Begleitendes Lernen" (see Information on Supported Learning). Via the Moodle course you will be kept informed about the latest dates and news, and you can use the message and student forum to exchange questions and answers.
When are the next dates scheduled for "Begleitendes Lernen"? You can find the current dates here.
Where? "Begleitendes Lernen" is held in the HU School of Business and Economics, Spandauer Straße 1, 10178 Berlin.
At present you have the following possibilities for getting in touch with students who are in a similar situation to you:
Enrol on the Moodle course "Part-Time Study"
Take part and visit the Family Café, regularly organised by the Family Support Center for student parents and their children for connecting with one another.
I would like to take my child(ren) with me to university. What kind of facilities can I use at Humboldt-Universität?
What kinds of events do exist for students with children?
In cooperation with the Family Support Center, the following events are currently on offer for student parents and their children:
My child is sick and I am not able to attend an examination or complete an assignment – what can I do?
If your child is sick, it is important that you
go to see the the paediatrician with your child and ask the doctor for a medical sickness certificate (sick note),

(if the date of your examination is fixed) immediately submit the medical sickness certificate to the relevant examinations office including a note stating your name and matriculation number (then you will be marked as "on sick leave" for your examination in AGNES),

(if it coincides with time scheduled for a written [seminar] assignment) firstly, contact your lecturer/examiner and ask whether the medical sickness certificate should be sent to the examinations office or whether the lecturer would like to see the medical sickness certificate. (During the time scheduled for a final examination, like a Bachelor or Master thesis paper, it is essential that the medical sickness certificate is sent to the examinations office!) That way the deadline can be extended. 
​
The contact details of the individual examinations offices can be found on your faculty"s website: List of all faculties.
You can also make a written application for compensation of disadvantage ("Nachteilsausgleich", see FAQ entry below) in order to reschedule your examination or extend the deadline of a written assignment.
Generally speaking, we recommend that you communicate openly with the relevant lecturers and professors. If information about your family commitments is exchanged in a timely manner, you can be offered flexible possibilities and equal opportunities for completing your assignments and examinations at all HU faculties.
Compensation for disadvantage ("Nachteilsausgleich") aims at enabling students with disabilities and/or chronic illnesses, pregnant students, and student parents caring for a child/children up to the age of 10 years or caring for a close relative, to complete their studies in appropriate conditions and with equal opportunities at Humboldt-Universität. The
General Study and Examination Regulations of Humboldt-Universität (ZSP-HU)
regulates compensation for disadvantage in § 109. Students can apply for compensation for disadvantage for both study and examinations. For detailed information on compensation for disadvantage see:
Compensation for disadvantage Leaflet
.
High-performance sportsmen and women can get information and assistance on combining competitive sport and higher education at Humboldt-Universität in the sub-project
"Study and High-Performance Sport"
(see link for further information).
Where can I get information on studying at Humboldt-Universität?
For all general questions concerning studying at Humboldt-Universität you can find extensive information on the HU main website, specifically in the sections "Studies" and on the "Compass" webpage.
Where can I find the current course list?
The course list of the current semester is available on the HU website AGNES (Courses and examinations online). Here you will find all the courses on offer at Humboldt-Universität: lectures, seminars, practice seminars, tutorials etc. AGNES is also used for examination administration: via AGNES students register centrally for examinations using their personal HU accounts.
Which lectures do I have to attend? How do I enrol on seminars?
Your study and examination regulations (see Study Programme / "Studien- und Prüfungsordnung") tell you which courses you have to attend and which assignments you must complete to be eligible to take examinations (Final Module Examinations = MAP – abbr. for Modulabschlussprüfung). The courses for each semester, completely listed with time schedules, rooms and teachers' names, can be found on the current course list. In the AGNES description of each course you can find information on enrolment.
What is Moodle?
Moodle is the e-learning and communication platform of Humboldt-Universität, where the majority of all HU courses are available as online courses. At the beginning of every semester it will be announced in the lectures, seminars and practice seminars whether and to what extent a Moodle course will be used. You will usually be given a password in class to enrol on the relevant Moodle course. All information on Moodle can be found here.
How do I get access to the online portals of Humboldt-Universität?
You can use AGNES and Moodle via a so-called "HU account" and individual access data for HU members. All information can be found at the Computer and Media Service (CMS) website.