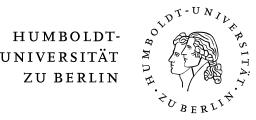 Q-Teams
The Concept
Q-Teams are student research teams, supervised by PhD students and postdoctoral researchers. Within the framework of an on-going research project based at the Humboldt-Universität zu Berlin or at a cooperating extramural research institute, the students work on a question of their own devising. Through research-based learning, they gain experience of and insight into research, either in their own subjects or in an interdisciplinary context.
The Format
A Q-Team is made up of five to ten students, ideally from different departments. It meets over a period of one to two semesters.
The Q-Team leaders (PhD students, postdocs or other junior researchers) are employed on a fee basis for the supervision of a Q-Team, or can apply for material resources. They supervise the content and methodology of the project, gain mentoring and teaching experience and, thanks to the (interdisciplinary) exchange with the students, can gather ideas and suggestions for their own research projects.
In an ideal scenario, the students experience the entire research process, from formulating a question to publishing the results. 
An overview of the Q-Teams offered in Winter Semester 2019/20 can be found here.
Students interested in participating will find further information on course content and registration on Agnes.
Applying to Teach in a Q-Team
The deadline for applications for Summer Semester 2020 is 15th of November 2019. 

For more information on the aplication and other questions regarding the Q-Team send an e-mail to: qbologna@hu-berlin.de
One should apply through the online form here.

Further information can be found here: 
The following video presents the work of several Q-Teams in the 2015/2016 school year.
If you are interested in Q-Teams or have questions concerning the application process, you are welcome to contact us at the following email: qbologna@hu-berlin.de
Contact:
Laura Schilow
Dr. Monika Sonntag
Kathrin Friederici
E-Mail: qbologna@hu-berlin.de
Tel.: +49-(0)30-2093-70807
Tel.: +49-(0)30-2093-70810