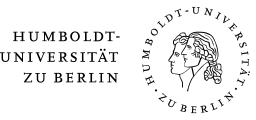 Berlin Perspectives - International Study Module
Berlin Perspectives is an interdisciplinary module in English and German for both HU students and international students of all subjects, who study at Humboldt-Universität zu Berlin for one or two semesters.
Current call for applications for the winter semester 2020/21
Berlin Perspectives is offered by the bologna.lab in the context of the 'Internationalisation' focus at Humboldt-Universität zu Berlin and aims to support international incoming students at the beginning of their studies.
International students making the transition from studying in their home countries to studying at the HU, in a new academic environment, often face linguistic and orientational difficulties: not only do they lack sufficient German skills; they also lack the necessary knowledge of German academic culture to be able to complete regular courses with any success.
Berlin Perspectives supports international students, especially those studying the humanities and the social sciences, by offering additional optional seminars and supervision at the start of their exchange semester(s) at the HU and throughout their studies.
The Berlin Perspectives Module consists of 1-3 seminars (5, 10, or 15 credit points):
The courses of the Berlin Perspectives module are classified as interdisciplinary elective courses and are part of the "überfachlicher Wahlpflichtbereich" (üWP) at HU. They are taught in English, German and bilingually. 
The module focuses on the following areas:
Cultural Sciences
Social and Political Sciences
Language and Literature
The seminars introduce students to academic German and reinforce their studying skills. In addition, the students discuss various aspects of Berlin including topics such as German history, society and culture, thus providing a useful supplement to their main studies at the HU.
Students learn in small seminar groups and can carry out the work required of them in either English or German.
International Students:
Students can participate in Berlin Perspectives for one or two semesters.
 
In consultation with their faculty, students may obtain no more than 15 ECTS credit points per semester via a maximum of 3 Berlin Perspectives seminars (at 5 credit points each)
 
Admission to the module requires a registration.
HU Students:
HU Students are welcome to attend BP courses in order to obtain credits for the ÜWP module
 
Berlin Perspectives is aimed primarily at bachelor students, but is also open to masters students
 
Master students can attend the seminars of the Berlin Perspectives Module, upon consultation with their faculty (examination office) on recognition of credit points in the field of ÜWP
 
Admission to the module requires a registration.